The Executive Suite provides a range of opportunities for senior leaders to both access support and development for themselves and to aid them in also supporting the development of their staff over the coming winter months and into the future.
They are designed to support you to remain a resilient leader, continue to thrive in your role, and set cultures that value the importance of health and wellbeing.
Who are these offers for?
We have a range of individual or group support options, webinars and resources for you. We know that executives are very busy people with limited time and that you need a lot of flexibility. We have designed these offers with that in mind so that you can access the support you need, and choose the option that suits you best.
The offers are open to all executive leaders across health and care in England. Where the offer is for a specific group of leaders only (e.g. chairs or chief executives), it is clearly advertised. Some pages will require you register to access their contents.
Non-urgent advice:

Featured offer
CEDN – Online Interactive Workshop: Developing the Chair/Chief Executive Relationship
24th January 16:00 – 18:00
The relationship between the chair and chief executive sets the tone for board effectiveness and influences wider organisational culture.  Yet, there is little available advice and guidance on how to develop this critical relationship, enabling both to maintain clear role delineation in a context of trust and mutual support.
This new series of conversations on Developing the Chair/Chief Executive Relationship aims to change that, with this second event building on our first meeting with Elaine Bayliss and Marie Gabriel.  It is offered as part of the developmental support available through the established Chief Executive Development Network and new Chair Development Network.
During the afternoon we will meet an established and respected chief executive and chair to build collective insight from their reflections on working together in East London Foundation Trust:
Marie Gabriel, Independent Chair Designate of NEL Integrated Care System and Navina Evans, Chief Executive, Health Education England
As well as exploring good practice in creating a strong and respectful relationship, we will also consider approaches to addressing the typical tensions and challenges that occur, grounding our work in the interests of colleagues in the room. 
Audience: This session will be open to all chief executives, accountable officers, and Chairs across healthcare organisations.
To book yourself on please click HERE
Non-urgent advice:

Featured offer
CEDN – Rest and Restore Spaces
The Rest and Restore Spaces are 90-minute online network meetings for a maximum of 15 participants at a time. Each confidential session provides the mutual support and psychological safety to stop and reflect. By getting involved you will benefit from connecting with colleagues to compare experiences and have conversations that matter most for your well-being.
There are a variety of dates available for Chairs, CEOs and Execs. To view the dates and to book yourself on please click HERE
Non-urgent advice:

Featured offer
Executive Coaching
This coaching offer is available for senior leaders. We can match you with an experienced coach who will work with you to strengthen your leadership by creating space for you to stand back, slow-down and reflect if you want to:
• appraise your decision-making in the midst of the current crisis
• find ways to create time and space to consider how to lead the transition into the future state
Providing you with the opportunity to enhance your decision making, to 'hold steady' in and through this crisis and to build and maintain personal resilience in order to effectively role-model effective, inclusive and compassionate leadership.
Support will be provided:
• virtually, for up to a maximum of twelve 45 to 60-minute sessions
• by experienced Executive Coaches at Unlimited Potential
Please note that as capacity for this offer is limited, priority will be given to those with significant organisational, system or national-level leadership roles. You will be asked to make a short case for how you meet these criteria and how you, your team and/or patients will benefit from the coaching
Leadership Stories and Reflections
A collection of short videos from your peers and colleagues reflecting on the importance of looking after your own wellbeing and how to spot where you might need some support. Watch more videos in our Leadership Viewpoints collection.
A few weeks ago, we marked one year anniversary of the first national lockdown. Many of us have reflected on the last year and the experiences we have been through. For senior leaders in particular, reflection and recognition of the journey travelled, both for themselves but also for their teams and colleagues, is often really important.
We've spoken to 4 NHS chief executives who reflect on the very start of the pandemic in this short video.

Crishni reflects on the importance of staff wellbeing being seen as part of inclusive and compassionate culture and a top priority for all leaders. "We have to try and make people feel safe to say that they're not ok."
She stresses that senior leaders need to role model looking after their own wellbeing and recognising own vulnerabilities. (And that cake is always good!)
---
Senior Leaders blogs and reflections
Read new blogs and reflections from senior leaders, including contributions from
Nikki Kanani, Medical Director for Primary Care (new)
Amanda Pritchard, Chief Operating Officer, NHS England and Improvement
Jacqueline Davies, Director of Leadership and Lifelong Learning
Ruth May, Chief Nursing Officer NHS England and NHS Improvement
---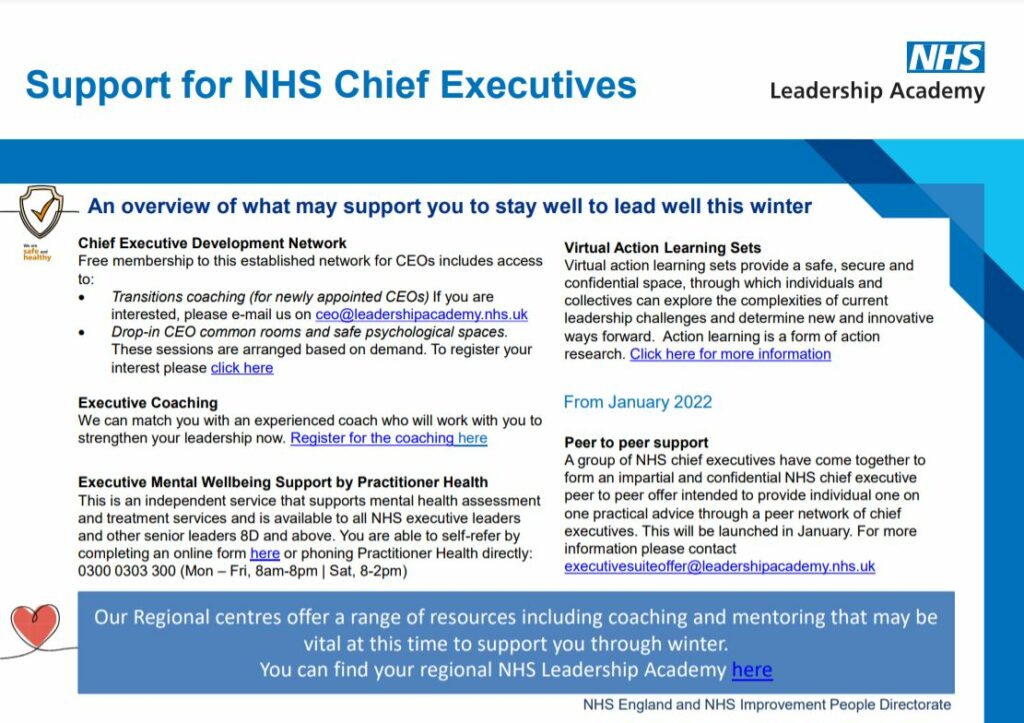 ---
To view available offers for psychological and mentoring support, networks and communities, see Support in difficult times – Our NHS People and Connecting and developing – Our NHS People
You can also keep up to date with the latest offers by following @NHSLeadership and @people_nhs on Twitter
Follow @people_nhs Follow @NHSLeadership
This page and the associated collection of materials is under development. When you have visited the appropriate sections for you from the suite above, we would be grateful if you would use the feedback form.