Whether you are an established Wellbeing Guardian, recently taken on the portfolio, or considering becoming the Wellbeing Guardian for your healthcare organisation, thank you and welcome.
This area is designed to support all Wellbeing Guardians to; develop into role both personally and as a community, to deliver and shape the aspirations and impact for the Wellbeing Guardian portfolio, and to empower Guardians to create a culture of wellbeing for our healthcare people to thrive and deliver quality healthcare services.
The wellbeing of our NHS and healthcare people is fundamental for a us as a caring organisation. Boards and senior leadership teams need to give wellbeing the highest priority. Ensuring our staff are happy and healthy feeds through into better patient care.
As a Wellbeing Guardian, you will be a pivotal enabler in helping to create an organisational culture where empowering the health and wellbeing of our NHS people is routine and a priority consideration across all organisational activities and decisions.
To support you, this Wellbeing Guardian community area is split into the following sections: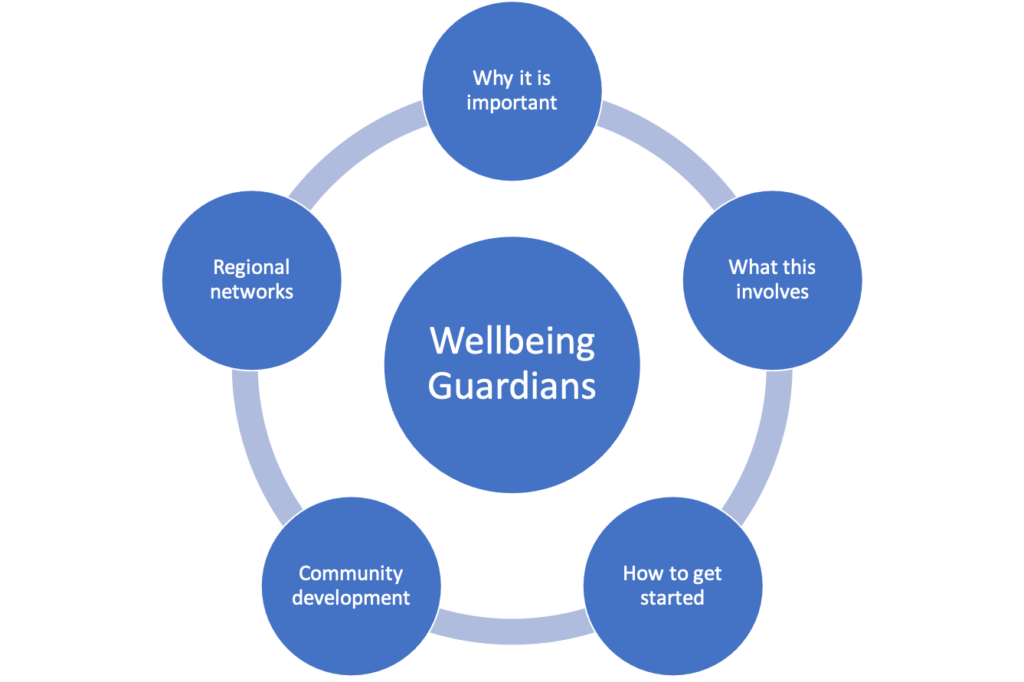 We will be updating this area with new resources on an ongoing basis to support the Wellbeing Guardian community, so please check back regularly.
---
Why the role is important and potential for impact
Rather than trying to describe why this role is important, we have a variety of videos from existing Wellbeing Guardians, sharing their personal stories of why they believe the role is important and the potential for impact.
As Wellbeing Guardian, you have the opportunity to make a real difference in your organisation, placing staff health and wellbeing at the heart what we do. You will be in an ideal position to support, influence and seek assurance from your senior leaders, creating a culture of wellbeing where the organisation cares for its people, who care for others.
The role arose out of the 2019 NHS Staff and Learners' Mental Wellbeing Review, and championed through the subsequent NHS People Plan. The Wellbeing Guardian Implementation plan can be found here.
In the short-term, the NHS is in a critical place right now because of the pandemic. Our staff are exhausted and, in many cases, deeply impacted by their experiences. Wellbeing Guardians therefore have a vital role to play as part of the recovery agenda.
However, even before the pandemic, our staff were reporting high levels of stress and challenges to their wellbeing. Therefore, the role is vital in both recovery and long-term strategic culture change in the workforce wellbeing agenda. By ensuring our workforce is physically and psychologically safe and healthy, we can in turn provide excellent care for patients.
What the role involves
A successful Wellbeing Guardian will be values-driven, people-focused, and willing to challenge the status quo to empower a wellbeing culture within their organisation. Sometimes this can involve asking difficult questions when championing wellbeing and seeking assurance that this is of organisational priority.
To hold the organisation to account in this way, it is suggested that this role sits best with a Non-Executive Director (NED) or equivalent in the context of your healthcare organisation. If your healthcare organisation does not have a NED, individuals in equivalent roles, such as a lay member or clinical director may be considered.
The role should be that of assurance and be empowered to act strategically. Therefore, the organisation should enable the Guardian by aligning functions such as HR / OD / Occupational Health and Wellbeing to operationally support them.
From an organisational perspective, the Wellbeing Guardian needs to:
Challenge the organisation to include employee wellbeing in everything they do and actively create a 'culture of wellbeing', to care for people who care for others.
Act as a 'critical friend' to question the impact of decisions on employee wellbeing – just as financial, performance or care quality impact are questioned. Seek assurance that how the organisation enables the wellbeing of its employees, is given as much weight as what it achieves.
Ensure the Board (or equivalent senior leadership team in the context of your healthcare organisation) holds senior leaders to account for the way employees are managed, empowered, and supported with their wellbeing.
Seek data to show what's happening on the ground, evidencing the wellbeing needs of the diverse workforce (inputs) and that wellbeing strategy / policies / initiatives are working and impactful (outputs).
Champion equality, diversity and inclusion, ensuring that the organisation considers the needs of the diverse groups within its workforce and adapts holistic approaches to wellbeing, appreciating peoples changing needs over time.
Continually and strategically 'sense-check' the wellbeing agenda for the organisation and prompt improvement / developmental action if needed.
Demonstrate that the Board (or equivalent senior leadership team) takes their personal wellbeing responsibilities seriously.
Work closely with the organisations people function (i.e. HR, OD, Occupational Health and Wellbeing etc) as enabling operational functions to realise the wellbeing agenda for the organisation and that they are supportive to the Wellbeing Guardian to be effective in role.
From a personal perspective, the Wellbeing Guardian needs to:
Strategically influence and shape the wellbeing agenda, speaking to the hearts and minds of the organisation's diverse workforce.
Hold the values reflected in the role description, role modelling the values of fairness, compassion and inclusivity.
Actively promote opportunities for the most vulnerable in the workforce to contribute and address wellbeing inequalities and the needs of diverse groups and individuals.
Although Wellbeing Guardians must be competent and confident in their ability to challenge the executive / senior leader team on behalf of the board (or equivalent senior leadership team) Wellbeing Guardians are not accountable for the entire people agenda. They do not need to be an expert in wellbeing, but they do need to be adept at understanding the breadth of wellbeing in the context of their organisation and holding the organisation to account where improvements are identified.
With this in mind, a Wellbeing Guardian does not need to:
Be a wellbeing expert.
Take on executive/management responsibilities for ensuring wellbeing policies are operationally actioned and delivered.
Get involved in 'the doing', operational management, or individual staff cases.
Personally collect, analyse or present data on wellbeing.
For more information, please also see the Wellbeing Guardian Summary Implementation Guide for a summary of the nine principles that should be championed by the role, as outlined in the NHS Staff and Learners' Mental Wellbeing Review and an example developmental role profile which can be adapted by Guardians / Organisations based on local need.
How to get started
Get to know your organisational data and what this is telling you
The first place to start is to get to understand your diverse workforce and what the wellbeing agenda means to them in the unique context of your healthcare organisation. Your organisational people, HROD and Occupational Health and Wellbeing teams can help you.
There are lots of places where you can find data about your diverse workforce. A good starting point would be to familiarise yourself with the data in order to understand the big picture and dive into the detail where something doesn't look right, needs exploration and/or improvement. It's not your role to do all of this activity, but data will enable you to question and challenge how things are done.
The Model Health System is a data-driven improvement tool that supports health and care systems to improve patient outcomes and population health.
It provides benchmarked insights across the quality of care, productivity and organisational culture to identify opportunities for improvement. The Model Health System incorporates the Model Hospital, which provides hospital provider-level benchmarking.
The wellbeing element of the dashboard provides Guardians and Boards with insights that could help you give a baseline and an indication of priority areas. Keen to develop a balanced approach that looks at both Lead indicators (looks forward and interventions are put in place upstream to make a difference) and Lag indicators (look at what has happened).
Model Health Hospital – WBG Guidance PowerPoint
Take a look at the data and commentary from your organisation in the national staff survey results or NHS people pulse surveys – look at other local surveys too or consider targeted staff engagement events that work locally for your organisation. Use benchmarking information to understand what is happening in other areas. Examine how the data changes over time and the context of what was happening at these different times.
Consider the diverse drivers of wellbeing – health, security, environment, relationships and purpose. Encourage the board / senior leadership team to look at potential workforce health and wellbeing inequalities and ensure they are engaging with and supporting all relevant groups.
Also, look at the impact of the organisation's existing wellbeing interventions – have they been evaluated, what has the impact been, should they be scaled and spread?
All this data can help inform your assurance role and leadership in the Health and Wellbeing Strategy. By reviewing this data, you can help establish what is working well, where you have concerns, where there are possible gaps, and where the organisation needs to make changes to support its people better.
Utilise the NHS health and wellbeing framework
The NHS health and wellbeing framework is an interactive strategic toolkit designed for board/senior leadership teams and those leading the wellbeing agenda. It makes the case for staff health and wellbeing, incorporates an organisational diagnostic tool, sets out clear actionable steps and includes guidance on planning and delivering a workforce Health and Wellbeing Strategy.
It has been developed through working with NHS organisations, partners across the NHS, voluntary sector and government, drawing their best practice research and insights. The framework and accompanying resources are designed to be used in a flexible way to meet the needs of your organisation. It can be used to start, revise or relaunch a programme, and depending on your starting point, your organisation may only need to use some of the elements.
The health and wellbeing framework diagnostic tool is an ideal starting point. It can be used by your management team to assess where your organisation sits and help direct future activity. We recommend using the diagnostic tool with the Board / Senior Leadership Team, and where possible to engage widely with your diverse workforce, to benchmark wellbeing and consider areas of improvement.
Newly evolved NHS Health and Wellbeing Framework Launch
The launch of the newly evolved NHS Health and Wellbeing Framework took place on 12 January 2022 via MS Teams. The launch included: An introduction to the Framework by Dame Carol Black, how to get started, organisations / systems shred their experiences of using the Framework in practice and Michael West CBE closed the event by speaking on the importance of creating a culture of wellbeing in organisations.
Transcript

Speaker 1 [00:00:02] Let me just say a little bit about how I see the modelling framework and the importance of it. For those of you'll to join a minute ago, you'll have heard Dame Carol Black say that this has a long history and it does build on earlier versions of the framework from 2018. And this version has been arrived at with a lot of engagement from colleagues. So I think you can be confident that a lot of thought has gone into this and we've heard different people's perspectives. I would clearly link it to the elements of the People Plan that talks about looking after all people and the strong evidence. And I think most of us know this from day to day experience that if we look after each other, we're better able to care for patients. And I think that is an obvious link, and I think it does mean that we need to think more deeply about what it means to be healthy and well at work. But it's much more than just being well enough to come to work is much more than just the absence of sickness let's say. It's also has to do with really being able to flourish, feeling confident about your work and as Michael West has said repeatedly for a long time, it also links to having enough people at work to be able to do the work. So we shouldn't think about this in isolation of other elements of the People Plan, like growing the workforce and finding new ways of working. Because all of this, if we get it right, becomes a kind of virtuous cycle. If we have the right number of people at work and able to use their talents and skills and experience, then we're much better able to create an environment where people are well at work. And in particular, we have seen over many years a rise in sickness due to mental health concerns and particularly during the pandemic stress and anxiety. So there been some bad things about the pandemic, but I actually think that there's a real gift potentially for us, which is that it has put a greater focus than I think we've ever had on understanding the importance of looking after each other, understanding the importance of caring for our own people and that's what this health and wellbeing framework is trying to embed.

Speaker 1 [00:02:16] A couple of other things that I think I would say is that this also, to me, just an obvious need to recognise that people's lives are not separated out from work and home. And if people have stresses or concerns at home, whether that's worried about their children being off school, whether it's worried about the the employment prospects of people they live with, all of that does have an impact at work, and the health and wellbeing framework tries to recognise that more I would say, recognising the importance of relationships, for example. But it also does mean that if we can equip people to be better able to look after their wellbeing at work, that also has a benefit in their home life and one of the testimonies I've heard in the last few months was a a male manager who'd be in the NHS many years that went on a training programme to help him understand how to have health and wellbeing conversations. And he said that part of the impact it had is that he went home and he was much kinder to his wife and daughters. And I thought that was actually great. So I think that we should recognise that a lot of this is is not sort of technical stuff about reducing sickness absence. It really is about trying to change the culture of the organisation that we work in and try and make it as the as the interim People Plan said, the best place to work, so we're setting our ambition very high. The last thing I would say is that this is not in isolation and it clearly links to other things that we're doing. So the people plan I've already mentioned there's a big piece of work on supporting occupational health services called Growing OH, and those teams have a vital role to play also in bringing this framework to life. And then lastly, if you haven't noticed the people, the People Plan, committed us to refreshing the staff survey this year, which we've done, and that is now structured in a way that aligns to the seven elements of the people promise. One of those says we are safe and healthy, which is the obvious link to today's topic. But I would really encourage you in the organisations that you're part of to be using the staff survey results that would obviously be coming out from now on over the next month or two to really raise the profile of looking after people, to use the seven elements of the Staff Survey to bring greater focus than we've perhaps had before. And there are new sets of questions in there on burnout, which I think will also give us better and more consistent insights than we've ever had into the sort of cumulative impact that being stressed at work can have. So I think we're well equipped with a number of these things if we bring them together, to really bring about a sustainable change to how we treat and look after staff and to really embed this in the fabric of organisations. And that would be my ambition and my hope for this, and I look forward to the rest of the session so thank you.
Transcript

Speaker 1 [00:00:02] Hello, everyone, so my name is Louise Hall, I'm the director of HR&OD at the Royal Surrey. Really interesting to hear what everyone's been saying so far, but I just wanted to give an insight from a trust perspective. So our wellbeing strategy's been going for a couple of years and we've been looking around mental health, work life balance, and environment. So we've been using the framework in the last few months to see where we should go to next. And actually, I think it's fair to say that the best part of my job is around health and wellbeing, because actually, I think we can make a real difference in this area and it gives me the options to go out into the wards, into the different areas and to really show that we care about how people are feeling. So this is another opportunity for us to engage with our frontline staff [intelligible] to really talk to them about what's going on, so perfect time to launch this. So we also use the wheel of wellbeing and the tools that Dame Carole Black refers to. And so there's lots and lots of data for us to use. And that's really important to remember the data because if we're trying to influence people to justify investments or in time or to explain why, it's so important, also the return on investment and the data is very helpful for that. So the way we started is, first of all, become familiar with the framework I agree with some of the comments so far, it is quite overwhelming, you have to look at it a few times before you realise actually, it's just covering quite a few bases and don't get overwhelmed, you don't do need to do it all at the same time. So it is a framework, it is a guide and you can do it when suits, so for us, we looked at identifying two main areas that were particularly pertinent. One was personal health and wellbeing, and one was relationships. And that's because we've already been focussing on the mental health side of things, on the work life balance, and the environment. So this was the sort of next phase of priority, and we've got lots of initiatives that we've been doing around values and behaviours and looking at how people work. We've doing training on civility, respect and kindness into action, etc. And as you start using the framework, you realise actually you're doing quite a lot of these things already. So it does link into the wellbeing guardian speak up roles. The staff survey is going to be really important to get an idea about what we're doing. And Dame Carole Black said at the beginning about presenteeism, that's absolutely something that we need to be aware of. Everyone's so committed at the moment and it means that they are going above and beyond, but it's not sustainable in the long term.

Speaker 1 [00:02:26] So we've been looking at our complaints and our PALS teams and our wellbeing champions and talking about what they're seeing and hearing. And as we link that to the values and behaviours work, it all comes together. So it is really important that you go through and say, Oh, I'm doing, that's already that's familiar and recognising that you come quite a long way already. So it's not as overwhelming. And in terms of personal health and wellbeing, we've been really prioritising the mental side of things looking at IATS, introducing counselling, psychological support, trim, which is looking at trauma, suicide awareness, which is increasingly something that we need to be good at and using Schwartz rounds. And the challenge is trying to get people away from the frontline and recognising this is something that is an important investment now for the longer term. And our approach is around, you care and we care, so you care about our patients and we care about you. So it is a great project. It does require quite a lot of investment from others. I understand from the Trailblazers that we're part of that lots of trust only starting to use it at the moment and some are using it tab by tab, and it's up to you we're trying to look particularly at the relationships and personal health and wellbeing. But actually, we've been looking at all of the other areas, and we've been going to what our wellbeing champions and actually taking it and saying what do you think, is this what we need to be doing. How do you think we're doing. Because sometimes our perception aren't necessarily perceptions of the frontline. And one thing I really would say is make sure that people do know what you're doing, not necessarily by using technology. Because people are busy looking after patients, you need to go out there, you need to have physical things. You need to go back a few decades and looking at pieces of papers and posters and signposting. So for me, this framework is a really good reminder. It's a really good way of getting reassurance that we're on the right path that we're doing the right thing and it shows how we're all linked up in terms of being a good tool to assess both ourselves and by others. Use the ambassadors, use the networks to validate and plan, and as we come into spring, we'll be looking at the environment.
Transcript

Speaker 1 [00:00:02] Thank you so much, and I want to start by saying a huge thank you to Carol and the advisory board for their continued leadership in helping empower the well-being of our health care people. What I'm going to start by is telling you a bit about how to get started with the framework itself. I would say that you might when you open all of the tools in the tool kit think, oh my goodness, this has got so much great stuff in here where do I start. And that's OK. As Carol mentioned, we decided to make this a flexible framework with lots of great stuff in there on purpose so you can pick and choose from it. It's designed to be flexible enough for large provider organisations to get some great stuff from it, systems to use it, and also for smaller organisations, teams, primary care practises as well. So we want it to be a tool kit that you keep coming back to time and time again. So the most important thing to remember as Karen alluded to, is wellbeing is different to different people at different times, in different contexts. And we designed the framework with that in mind. So what that means to us, as as health care leaders and people leading on well-being for our people, is that you need to look at the diversity of your people, look at what's right for them and look at what's right in the context of your organisation. You'll know that your organisation is going to be very different from the one down the road, from the 100 miles north or 100 miles south. And that's okay. We need you to consider what's right for your diversity of people in the context of your organisation, and that changes over time.

Speaker 1 [00:01:36] So the, if you go to the first slide, please. Next slide, please. I'm going to take you through all of the tools in the toolkit to help you familiarise with how to get started. We have several tools at the moment and you'll find out later we will be expanding as time goes on with more things in here. We have the strategic overview, the diagnostic tool, which will be absolutely important to collect and understand your data ss Carol mentioned, data being so important, the elements toolkit that goes into a lot of detail to help you put together your strategy and information. The implementation guide if you're leading on rolling this out to your organisation and we have case studies as well, and we're going to be putting those up on our website to keep them quite current and contemporary as well, so you can learn from how other people do things in practise to inspire you with your journey. You go to the next slide, please. The most important thing that I want you to take away though, above all of the things, the most important thing is this seven element motto, which is the golden thread of all the tools in our toolkit, really important. You see in the middle here, as as John mentioned, Carol alluded to, our people are the most important thing. If we care for our people, our health care people, they'll pass that care on to our patients. And that's why it's so important to be in the centre of this model. The evidence is absolutely clear, caring for our people will pass that care on to our patients.

Speaker 1 [00:03:03] The other elements in the model, I'd say, familiarise yourself with all of them. And if you think with all of the other tools in the toolkit, it's a bit overwhelming. Just come back to this model because actually you can look at it and say, well, how are we doing around improving personal health and wellbeing. What have we got going on in there. What are the good things. What are the strengths. What are the things we might want to do more of, and that could be just enough for you in your organisational context without going into the other tools in the toolkit. So keep using this as the golden thread to keep coming back to. We've also aligned all of the other tools in the toolkit to this, so you'll see all the different sections of the diagnostic tool, the elements framework, the case study. They all align to it too, so you can see how it is the golden thread if you go to the next slide, please. The first tool to start with, though, is this strategic overview. This is only a few pages on purpose and it has several uses. One is if it's the first tool in the toolkit to get started with, it gives you a high level overview of the framework, how it's evolved Since the original iteration that Carol mentioned, and also it introduces you to the seven element model, gives you a high level overview of it and kind of makes the case for why this is so important. So for you, when you're getting used to using the framework and familiarising yourself with it, it's the tool to start with and actually it's enough for bedtime reading on day one, I would recommend. It's also really great because with your senior leaders, with your board level leaders, leaders of the organisation that you need to convince this is what we need to do for improving the well-being of our people so they can pass that care onto our patients. It's just enough for including in some board level report or senior leadership reports when you launch all of this, and you want to get people on board in the senior leadership team. It's just enough to do some quick reading just to familiarise our senior leaders with with all of the tools in the toolkit as well and where to get started. So it has multiple purposes but please do keep using this document as your starting point and help other people to use the tools in the toolkit by using this document to begin with.

Speaker 1 [00:05:12] The next most important tool in the toolkit is our diagnostic tool and if you move to the next slide, please. We've designed this and essentially it's pretty familiar If you've used the original 2018 version of the framework, it's pretty similar to that. We kept it purposefully based on on feedback as an Excel document on purpose because it's really simple and we know that lots of different technology systems are incompatible. So feedback was keep it simple, allow us to use it in a dynamic way for us with something we're familiar with and excel was the tool in the toolkit to help us do that. We have enhanced it, though, and you see here it's a very small, small picture on the screen but if you bear with me, you can see all the different colour coding in the tabs across the bottom. They mirror all of the seven elements in the in the model for wellbeing as well, so you can see it's the golden thread in the diagnostic tool. When you open it, you'll see there's some instructions in there and really importantly in one of the first tabs you see there's a high level overview of how you're doing when you work through all the different tabs in the diagnostic tool you'll see a series of different questions also linked to the different elements. It's for you to really understand what's the evidence that you want to say is meeting this. This essentially a diagnostic for the different elements in the in the model. We can't prescribe what the right pieces of data are for this and whilst we've got the sstaff survey, we've got different a whole variety of data out there that you can consider in the model health care system is a great tool for that as well for example. But we can't prescribe it for you because every organisation is different, and the most important thing I'd say here is ask your people, they know how you're doing with well-being, ask your diversity of people how they think that you're fairing as an organisation against all the sevens elements and probably take it on tour. You could, for example, some of the great practise that I've seen is just taking the seven elements model and asking people in your staff groups, in different service areas, how do you think we're doing here against all of these, not the full diagnostic tool, but just the model, and they'll give you some great information on your strengths and areas for development. All of this data, though, will enable you to rate how you're doing against the elements in the in the model and you see on the right hand side of the screen what what we've been able to do is design these to give you some high level benchmarking and track it over time.

[00:07:41] So you can see here if I was being presented with this is as the boards, the well-being guardians,the chief exec or senior leadership team if you're in a in a primary care organisation, I'd be looking here thinking actually the grey part is low and actually that means that I need to do more work on our leaders and managers. And actually, that's probably where I want to start here, because that's an area it's going to have the most impact. I'll see that actually were quite good with data and insights, so hopefully I can rely on that we've had a great diagnostic tool in all the data I can rely on and in all of this. But you can see how this as a senior leadership team as well it helps you go straight to one of the most important things to focus on. And again, don't feel overwhelmed with all of this we're talking about. As we've said, creating a culture of well-being and culture change absolutely takes time. There will be some quick wins that you can do, but actually, this is going to take many years for you to improve the well-being of our people, and they're going to be challenges and bumps across the road as well. That's okay. We recommend keep coming back to this diagnostic tool. I think in the first year, maybe in six months and then six months again, so twice in the first year or three times when from the beginning and then at least every other year as well just to track how you doing? And if you go to the next slide, please. So once you've done your benchmarking and you've got a good idea of what you need to do to create your strategy, the rest of the tools come in to their own. If you are, particularly if you're leading on well being. So I think the rest of the tools in the tool kit and really useful if you're interested in well-being, but they're absolutely imperative if you were a leader for well-being in your organisation, such as HR, occupational health, wellbeing leads, the senior person in charge, the well-being guardian as well.

[00:09:24] So the elements of health and well-being. First of all, say don't be intimidated by this. It's a quite a hefty document on purpose just to really bring to life the seven elements in the toolkit. And it gives you lots of really useful data to say why this is important generically, from a global perspective, a UK wide perspective, for health care in particular, and some data insights for diversities of different staff groups and different people as well. And we've done that just to give you some inspiration. But again, you need to look at your own data in all of this for your diversity of people, but it gives you some inspiring data. It also gives you some inspiring case studies, some high level case studies just to say how other people have addressed different elements. And it gives us a really great description of why this is important and what good looks like and really justifies why working on each of the seven elements and the sub elements as well is so important in helping you to create a wellbeing culture when you put a new strategy together in your wellbeing plan, this is an absolute go to tool in the toolkit for you. The next tool in the toolkit is the implementation guide, and this is absolutely imperative if you are the lead or the or the team working on implementing the health and wellbeing framework. It's if you're familiar with creating a culture change organisation and system change, you'll probably be familiar with most of the tools in here. It just essentially helps you to create that service improvement, that improvement for all of the health and wellbeing culture in your organisation by taking you through how to do it with a plan, change cycles and different things like that. But if you're new to all of this, that should give you some confidence in how you lead organisational change with a wellbeing slant.

Speaker 1 [00:11:04] And the next in all of a suite of tools in the toolkit or our case studies. As I mentioned, we are going to be putting those on our website. So the first iteration is just launching it to you today. We're going into our second iteration of our website soon, which will be having more content on here and we're going to be uploading. We've got whole portfolio of amazing case studies mapped to be seven elements model, and we're going to be putting those on our website as well. So if you want inspiration from other organisations or the teams of the people who've done some great stuff as linked to the seven elements model, you'll be able to go and look at that there to be inspired by other people. And if you go to the next slide, please. Finally, what I want to emphasise is that one size does not fit all and flexibility that we we injected into this iteration of the health and wellbeing framework. If you're starting and you're here as a system leader, for example, in an ICS or a primary care network, you might be thinking, how do I use this across my diversity of organisations? One of the things we'd absolutely recommend to you is using this as an analysis across all of your organisations so that diagnostic tools are a great place to start. Get all of your organisations to do a diagnostic and then come together and compare data sets. So, for example, if in the new version I showed you earlier, if everyone was saying managers and the this is an area to start well as a system, you can absolutely see where the most important areas are to invest collectively together. If you have, for example, an organisation that is really having is showing the strength in one area, such as the relationships part of it are others are struggling, you can potentially say to that organisation, could you help other organisations in the buddy approach to really improve that area of the of the seven elements model. So you can see how it's useful in diagnostics investment and also to support each other as buddying up across different organisations. At an organisational leve. I think you've probably got through that trust, commissioning organisation or federation in primary care, for example. You can see how it absolutely helps you as a senior leadership team, as leaders of well-being and even managers of teams to create that culture of well-being. And by doing the diagnostics and then looking at creating your wellbeing strategy and how you and plan for improving it with your interventions.

[00:13:27] The other thing is, if you are in a team or service area, for example, you're in a primary care practise, which is a small team or you're in Ward seven, you're in finance, you're or you're just interested in this and as a leader, you want to know how I can improve the well-being of the people that I care for. I'd say pick and choose the tools in the toolkit. The most important thing is the model, as I mentioned. Keep it simple and look at what are you doing in the context of your team? If your service areas and what could you do more of, you don't need to go into the whole complexity of the toolkit, just dip into the areas that are useful to you. And we have some more information on what we're doing around teams and team leaders later on that I know victoriously good to tell you about. So without further ado, I think that's the end of my section. Our pass back over to Victoria. But really, to emphasise to you, wellbeing is different to different people, different times in different contexts so really, most importantly, do what's right for the diversity of your people in the context of your organisation so they can care for our people, so we care for our people we can pass that, care on to our patients, and back over to you Victoria.
Transcript

Speaker 1 [00:00:02] Hello. I'm Eric Barrett health and wellbeing lead at Kent and Medway NHS and Social Care Partnership Trust, and I'm really pleased to feedback on our progress we've been making as a trailblazer pilot site for the refreshed health and wellbeing framework and I'm just going to share some details about our journey as a trailblazer site with you. So we started off by utilising the diagnostic framework, which is based around the updated health and wellbeing model within the tool kit and some of the key areas of focus where we found where we had some gaps to improve included developing our rest spaces for a lot of our staff. So we are based across over 80 sites within our organisation. So not all of our staff have the same facilities in terms of rest areas and kitchen spaces. And so certainly this is an area of work we're focussing on working with estates colleagues, and also areas for improvement include our professional wellbeing support in relation to occupational health. So we are currently procuring that out to a private provider to provide these services. And we found that during the pandemic, there was not as much flexibility in approach that we could have achieved, potentially utilising internal occupational health service, for example. So certainly there's some food for thought and musculoskeletal health issues are coming through as a key issue and so that is an area which we want to improve our offer on as well.

Speaker 1 [00:01:37] Where we found that we had been doing particularly well with around our managers and leaders in relation to health and wellbeing. So we know that our managers within our peer cohort in the previous staff survey were said to support our staff around their health and wellbeing, and also with we found that staff feel that they have good relationships with their colleagues as well and have been really supported by one another during the pandemic. So we also carried out a staff engagement exercise, and we've worked with our wellbeing guardian as well, and we've been asking staff What does wellbeing mean to you. And this has really helped us to develop our ideas around developing our new health and wellbeing strategy. And ultimately, we've come up with four key buckets that we want to focus on for our strategy. And so this includes growing our offer, particularly in relation to physical wellbeing, because we haven't necessarily had as many opportunities to meet up in person and look after our physical fitness in a way that we might have done previously. So that is going to be a key focus. And also, we're hearing that financial well-being is a key area for focus, and we're exploring areas where we might be able to add new elements to our existing offering, including hardship grants, potentially hardship loans, and also supporting staff with career development is a key area of that, that bucket.

[00:03:08] And we want to be addressing our day to day working environments. I mentioned about rest spaces, but also we do want to ensure there is a culture of breaks being taken. We know the importance that taking time to rest and recover even during the working day can be beneficial. And also, we want to be using data more effectively so we're looking at opportunities in the future where we can potentially carry out health needs assessments not only for the benefit as us, as an organisation to understand the health needs of our staff, but also for staff to receive information about what they can do to support their own physical and mental health and wellbeing, and also workload management. We know that there's been increasing pressures on staff, but there are things within our gift that we can do to address this, including potentially reducing email traffic and also the numbers of meetings and so we have decided to try moving our monthly health and wellbeing group to a quarterly group, so it becomes more strategic with groups of staff within that meeting more regularly to address particular projects as well so there are a few things where we're going to be PDSA cycling to see their effectiveness. And one of the key elementsas well is about communications. And so we have had a weekly Wellbeing Wednesday newsletter, but we're moving to quarterly publication. 'You first' is the new name and we're really excited for that to launch later this month and hear our colleagues feedback about how that's potentially reduced the email traffic while still providing some really important information for them to benefit their own health and wellbeing. So thank you for listening, and I look forward to engaging with colleagues throughout this journey, whether it's trailblazer projects, sites, or people in the wider health and wellbeing community as well. It's been great to have the opportunity to speak to you. Thanks very much.
Transcript

Speaker 1 [00:00:02] Thank you very much indeed. Could I have the first, the next slide, please. And while that's being put out, could I just say good morning to everyone and to say how good it is that so many people have joined us today, and thank you for taking the time from what I know is a very, very busy work out there at the moment. I'm going to take us on a rather historical journey and I'm going to start with Simon Stevens. But just before that, I want us just to remember that in 2009, Steve Bornemann wrote a very good report about the health and well-being of the NHS staff, and much of what we've done in developing our framework was based on Steve's work, and we really shouldn't forget that. But I think the framework as we've started it and improved it really started with Simon Stevens, who in his inaugural address in 2014 said that those who work in the NHS need to be healthy, both mentally and physically, have good wellbeing and be fully engaged in their work to improve patient outcomes, because our productivity is really that of looking after patients and doing it very well. In the NHS five year forward view October 2014, Simon was very keen that we would be able to use things that we already had, like the NICE guidance on workplaces, especially the mental health guidance, the workplace wellbeing charter. So using what we had, he was very keen on knowing our data and that is an important theme that has gone through. But historically, we moved on and in the summit, which was in December 2014, we created a group, a group with a very wide membership, including the private sector, academia, charities and of course, the NHS that move forward to become an advisory board. So our next slide, please. And during that time, we said, well, what do we already know. And these things we knew, I'm not going to read them all out. But we know how important that people are in good work, that you have flexibility, that you have some autonomy, that you feel stable and safe. And John has already referred to some of those things and as well as having good work, crucially, you need to be in good workplaces and you'll see reflected in the framework the importance of leadership at board engagement of appropriately trained managers. So these were things that could be written about that were already in place in many organisations that we needed to integrate into the framework. Next slide. And so this was the original framework. It was launched in 2018, and it was in development for quite a long time I must say, from about late 2015, trialled and tested in NHS organisations. And then once we got it to a certain format, tested it.

Speaker 1 [00:03:39] And the important thing is that I just want to bring to your attention in which you carried on into our new framework the importance of various organisational enablers, which are crucial. So leadership and management. This emphasis on really good communication and data collection and then a healthy working environment. These were the things that we took through. And then, of course, health interventions. At that time, we were thinking very much about mental health, musculoskeletal and healthy lifestyles. Now, in 2018, reducing sickness absence was considered, by our secretary of state at the time, to be the most important outcome. It is, of course, important, but many of us would say, and Jonathan's already referred to this, there are other things we need to go upstream, and to be very aware of prevention and of course, the relationship to our more external environment. So sickness absence, important, but presenteeism, which I think is creeping in more and more, is equally, if not more important. But the evidence collected in the original framework showed that organisations that did actively use the framework did reduce sickness absence rates. Next slide.

Speaker 1 [00:05:06] But we needed to evolve it. And these are some of the reasons, there were things that were missing. Strangely, we hadn't put occupational health in it. We needed to include financial well-being and social well-being. There are many types of well-being, and we only have some of them in the original ones. We had COVID and we needed to move faster. And as has already being said, this creating a culture of well-being that gave way to prevention really, truly important. And we needed to broaden our model of NHS health and wellbeing, and we've tried very hard to do that, become more holistic and to be much more representative of of our diverse people and to realise the things that were happening locally, regionally, which we needed to make sure was the framework. So next slide. So what did we do? We worked with a diversity of stakeholders with a co-design, as John has already said. And we tried to capture best practise, capture the academic evidence and then co-design, and delivering what you can see there in the triangle and well more will be said about that in a moment. Next slide.

Speaker 1 [00:06:35] So the expanded model, and of course, I'm not going to go into all of this. You can see it here in this slide. It is definitely being more proactive on empowering people to manage their own health and well-being. Again, occupational health very much in there, a need to assess and evaluate our interventions, which is very important. And then, of course, as COVID taught us physical workspaces, facilities for rest and recovery are really crucial. And a bigger emphasis on our senior management responsibilities. So it is an enlarged and a much more holistic framework. Next one. You can see here what we retained and what we adjusted, so the sort of light brown is what was based on the original framework, but enhanced. So we have an enhanced content there, we've certainly got some new and significantly important sections on the environment, on relationships, on fulfilment at work. And then we have something that's still there for us to to look at, the existing content from the current framework. So that's our journey. And in the last slide, just one or two comments that I wanted to make. Really important in doing this to acknowledge the diversity of NHS organisations. You will all be on a journey and you'll be at different places on that journey. And so we hope very much this framework is for everyone. You can go into it and pick from it the things that will most support you as you make you make that journey. We know a local approach is necessary. This is not a centre-down approach, which doesn't allow for a huge amount of local interpretation. I would just say know your data, know your baseline and then, if possible, evaluate your investigations. See what this framework can offer you and your organisation in order to enhance health and wellbeing in its widest interpretation. Do celebrate the successes that you have, adjust if necessary. We know that it may not be perfect, it's a living document and report the impact and share it locally. So I hope that gives you an idea of its growth, its evolution, and we're very pleased with the framework today and hope that you will find it useful.
Transcript

Speaker 1 [00:00:02] Thank you. Good morning, everyone. It's a pleasure to be part of of the session this morning. We're in quite a unique position in the North West Ambulance Service in that I think, in the trailblazers, we were the only ambulance service to be part of this cohort and the North West Ambulance Service, as some of you might be aware, is one of the largest in the country, servicing seven point five million people with over six and a half thousand members of staff and and obviously lots of focus around performance pressures and other things. So we were quite a unique organisation to be to be involved with with the trailblazer, and so perhaps can bring a slightly different perspective to some of this through our experiences. We've been looking at the framework over the last few months since since since we've had it looking at actually, and realising how adaptable and how flexible it is for our purposes. And that that's a point that has been made a number of times this morning that it is an adaptable framework. It is something that that we can bend and flex to the needs of our individual organisation, and we spent a lot of time on the organisation diagnostic tool. And again, it has been said it's quite a comprehensive tool. It's an extensive tool. And on on first glance, when you look at the number of tabs and the number of sections, it could be quite overwhelming. But we realised actually not doing it in one go and actually breaking up into chunks and identifying the key indicators is actually really crucial to the way in which we, the way in which we approach this. And so that's that's what we did.

Speaker 1 [00:01:46] We broke up the organisational diagnostic tool into and in the sections that we want to focus on. We looked at all of our strengths in those areas, identified the further work that we need to do in each of those respective areas. And then actually come up with a plan for what we are going to do going forward and some of the factors and the elements of the of the framework, as well as undertaking that the the diagnostic tool has actually inspired us to restart some of our previous wellbeing groups that we had in terms of restarting some of those conversations with senior managers across the organisation around wellbeing offers, but also importantly looking at our welfare offer as well. So the more severe mental health challenges and issues, things like suicide prevention as well, we've also been looking at that more broadly as well, and that's one of the results of of coming out of this framework in terms of what do we actually need as an organisation from from our health and wellbeing perspective. And what are the issues associated and linked to it from a welfare perspective can we also look at addressing through this.

Speaker 1 [00:03:04] In terms of kind of from our experience some of the things that I would share that may want to be considered by organisations going forward is that, you know, one of one of the things around the organisation diagnostic tool is that it doesn't kind of need to go anywhere to be submitted and somebody is going to sit there and have a look at it. But we think it's important that within our own respective and individual organisations that we actually have some assurance for the way in which the tool has been completed. And so one of the things that we've been looking at in terms of the within North West Ambulance service is how we actually share that with our health, wellbeing and cultural culture assurance group so that they can have oversight of it and actually can can challenge some of our our contributions within within that framework and perhaps provide a different perspective. Second, we don't think it all needs to be done in one go. It is a significant and quite extensive piece of work so do break it up and and thirdly involve the right people. You know, this isn't something that needs to be done in a closed room. Think about all the different people that that may need to be involved from a health and wellbeing perspective. All the different managers who know about local projects and initiatives which are taking place. And actually, how can they be involved and contribute to this so that actually it's the collective wisdom of the entire organisation. Thank you.
Transcript

Speaker 1 [00:00:02] My name is Amanda McEvoy, I am the deliverer of good things for Hertfordshire and West Essex integrated care system. And so when we were first asked to become health and wellbeing pilot site, we were really excited about the prospect as a system. And then we received all the packs and tools that came with the framework and I won't lie I was backing away towards the door at that point because as you've seen from Adam shown, there is a lot. So we decided to proceed with some trepidation and the fire started to ignite again once we worked our way through the documents. So the diagnostic tool really excited me, which I know is very sad, that finally, we had a really robust and consistent way of looking at health and wellbeing across our system, and we could start looking at measuring apples and apples. So as an ICS, we engaged with the new health and wellbeing framework because it was a really exciting opportunity to get involved and to test it out for ourselves. So we wanted to get a good idea of where the organisations in our ideas were against a consistent tool and look at how we as a system could support our organisations. We also wanted to look at using the findings, to look at what we again as a system, could do to fill any gaps that were consistent in all or most of our organisations, as well as sharing best practise and avoiding duplication of work with that collaboration. So in our system, we have got a wide spectrum in terms of health and wellbeing cultures, we've worked really closely in the last 18 months to ensure that our organisations are able to work in collaboration, not competition with each other. We have fortnightly health and wellbeing meetings with the leads, and this has led to a really productive, enthusiastic approach to health and wellbeing within our system. We've also worked on some joint projects and we share good practise already, so lots of our organisations were already in a good starting position with this. So we approached starting the framework by securing a dedicated resource to help oversee the process and to use the diagnostic tools for interviews. We designed a project plan engaged with the health wellbeing leads in each of the organisations and ensured that they knew that this was a supportive base and not an assessment to measure how badly they were doing. So by being really clear with that, it encouraged them to be open and honest when we were using the framework and the diagnostic tool with them. We then set out once one meetings with each of our health and wellbeing needs, as well as other colleagues that were relevant at the time and we went through the diagnostic tool with them and collated the information in a consistent way. So where needed, we had subsequent meetings. Sometimes people wanted to go away, get more information and bring that back to us and then we compiled all the information into a report which then details the organisations detail, as well as giving us a snapshot of the ICS information.

Speaker 1 [00:03:00] So we're now working on making an action plan based on those findings and prioritising what we can help with as a system, as well as how we can share best practises with organisations across the system. We've already got some eager volunteers who are working on a new health and wellbeing strategy for the ICS, and we're then going to enable each of our organisations to use that as a basis for their organisational health and wellbeing strategies. We've got big plans for the next 12 months as an ICS, especially as we move into becoming an ICB, and we viewed this diagnostic tool and the subsequent report as life documents. So we will continually be going back and revisiting the information, adding information as we get better, and working through the diagnostic tool repeatedly to make sure that it's up to date. We also want to start speaking to a random sample of staff from each organisation to check their view, and again cross-reference the data between what we know we're doing and what staff feel we're doing. So finding time with the leads was really challenging, and the health and wellbeing leads and occupational health needs are really stretched with pandemic and mass vaccinations. There was a hesitancy at the start when people didn't want to share all their information in case they'd be benchmarked against others or have their failings exposed. So thankfully, we've got really good collaboration in the ICS already, and once they understood that we were coming from a position of support, they were happy to engage. So it was also quite challenging to engage the whole system, so including on non NHS organisations. So in our system as a default position, we tend to work as a whole systemand I would say we've done so where possible with this framework as well.

Speaker 1 [00:04:44] So my first top tip when starting to use the framework and diagnostic tool would be to engage with key stakeholders early on. So get them on board. Be really honest about why you're doing this and what the benefits are for them as an organisation. My second tip would be that the diagnostic tool does look quite scary when you first look at it. So break it down into bite sized chunks. As Adam said, you don't have to use it all in one go. We started with the quicker section so that people felt like they were moving forward and achieving something. Some of the sections again, information sits in multiple sections. So again, it's good to have someone that can populate that as well. And then also looking at the areas that you know, your organisations are doing well in, so again, it gives them that positive tone and that positive feeling from the very beginning. And lastly, try to have a dedicated resource. So we had someone who was project managing and overseeing this. And once you're familiar with the diagnostic tool in the framework, it's really useful and straightforward to use. But it does take some time to read through all the information and really get your head around it and digest it all and understand how to use it best. So in summary, for us, this has been a fantastic piece of work so far. It's the start of an exciting journey for us and will no doubt help to shape health and well-being in ICS for years to come. So thank you.
Transcript

Speaker 1 [00:00:02] Thank you Victoria, very much indeed, and hello, everybody. Good morning. It's a real delight and pleasure to be with you. I just want to in the context of this conversation, we're having acknowledge the current context that staff across health and social care are facing today. I keep hearing that staff are exhausted, and they're tired of being exhausted, and there's a huge amount of pain out there. This conversation we're having is therefore of enormous importance. But I'm really heartened by listening to the conversation this morning and heartened by the increasing focus on staff health and wellbeing. John Drew talked earlier about the alignment of the national staff survey, the new national staff survey format. The People Plan. The health and wellbeing framework that's being launched today and that integrated coherent strategic approach, I think is vital. And I'd also like to acknowledge the work of the health and wellbeing team that's been working on this framework, led by you Dame Carol and Adam and and Victoria and many people. What's the importance of having a culture of well-being within the NHS. It may seem like an obvious question, but I think it's worth being really clear about why it's so important. The health service, our health service in this country is focussed on promoting the health and wellbeing, the happiness of all of the people who live in our country. That's its purpose, is to promote health and wellbeing. And culture is about consistency between the content of what we do and the processes by which we do it. And so it's kind of fundamental that NHS cultures should be as much about the health and wellbeing and happiness and growth and fulfilment and engagement of staff as it is about patients and communities and families. After all, the NHS employees in this country, one in 20 of the entire workforce of the country. So that consistency between the content of what the NHS does and the process by which it does is vital, that the NHS should be a sector that models caring for the health and wellbeing of its staff as part of its purpose in promoting the health and wellbeing and happiness of the people of our communities.

Speaker 1 [00:02:58] The second reason that it's really important to create cultures of well-being is because we know that the NHS is characterised by many cultures that are unhealthy, that are not good places for people to work. Even before the pandemic, organisation cultures in the NHS were, in many cases, very unhealthy, very high levels of vacancies and in December, last month, there were 198 thousand vacancies in health and social care, around getting on 95000 in the NHS. Absenteeism, we know, is much higher in the in the health service than it is in other sectors and in the current context of the pandemic, it's in some organisations running it around 15 percent. Other indicators of organisational health in the health service are intentions to quit and turnover one in five doctors report thinking about leaving the NHS. One in three nurses leave the NHS, one in four nurses, forgive me, leave the NHS within three years of joining. Stress is another important indicator of organisational health, and we've seen stress levels rising in secondary care steadily since 2016, when the particular form of wording used in the National Staff Survey was introduced. And that rose to a peak of 40 percent in 2019 of staff saying that they'd been unwell as a result of work stress during the previous year. And then the pandemic struck and there was a further 10 percent increase. And the same is true in primary care and GP's reporting the highest levels of stress since the introduction of the GP Working Life Survey in 1998. So we we currently see, not just because of the pandemic, the highest levels of stress and vacancies and intention to quit that we've seen for many years. And that's one of the reasons why the redesigned national staff survey is focussed so much on better measures of stress and burnout. Better measures of compassionate leadership. Better measures of workload. So we have to address this issue of cultures of well-being. And it's not all gloom and doom. There are local variations. We know of examples of stress where stress levels and turnover rates are significantly lower than the average, Northumbria is one good example. But there are many others around the country. And the third important reason why we should focus on creating cultures of well-being is because of the links between staff wellbeing, staff health, staff engagement and the outcomes that we seek in our health services, care quality, patient satisfaction, lower avoidable mortality and so on, and a number of people have referred to that link this morning, but I want to make it really clear about how important it is.

Speaker 1 [00:06:24] You know, work overload is a is a huge problem in the NHS, and we know, for example, from research work that doctors who are burned out are more likely to make errors. We know that people working over eight hours are more likely to be involved in accidents or errors and that people working 12 hours, there's twice the risk of making an error or there being an accident. Doctors who have high burnout are between 45 and 63 percent more likely to make a major medical error within the next three months, and we know that there are similar data for nurses in ICU under high levels of stress. There's there and then much higher levels of patient mortality. Most convincingly is the data we've got from the national staff survey over the last eighteen years, as you know, more than half a million people now respond to the survey every year, and we're able to do the most sophisticated statistical longitudinal analysis, and it tells us there's no more important predictor of trust performance than the experience of staff and in particular, what we see as a real value chain from great leadership, compassionate leadership to staff wellbeing, to patient satisfaction, to care quality, to financial performance and to avoidable patient mortality. The links are very clear. And so for all of these reasons, creating cultures of high quality care and staff well-being are inextricably bound together. And the key factor that we know that affects staff well-being is chronic work overload. It's the number one factor in staff stress, the number one reason why staff intend to quit. It's highly negatively related to patient satisfaction, and it's associated with higher levels of bullying and harassment and discrimination. We also know that chronic work overload affects staff health. It's associated with cardiovascular disease, addictions, alcoholism, cancers, diabetes, depression, and it's really important then, that the new health and wellbeing framework is focussed on leadership and management in working conditions. And it must focus, I think, very, very strongly on the issue of chronic work overload that affects staff. And of course key to that, as John Drew said earlier, is the issue of having adequate numbers of staff and adequate planning for the right numbers of staff at national level and at local level.

Speaker 1 [00:09:22] How do we address some of these issues. I think the framework is a really important step along the way to improving our understanding and our strategic approach to managing the wellbeing of staff at work. We also know that stress, poor health at work is primarily a result of our failure to meet the core needs of staff; their needs for autonomy and control, the ABC of core needs, their needs for autonomy and control their needs for belonging to feel valued, respected, cared for. There needs for a sense of contribution or competence that they can do the quality of work that they wish to do, so they don't experience the moral distress that has such a negative impact on staff wellbeing. So, I think it's really important when we think about cultures of well-being that we avoid the danger, a very real danger I think of using a sort of sticking plaster approach to dealing with staff wellbeing. So I could summarise it by saying, you know, the difficulties that we're facing now and have been for some years, even before the pandemic. It's beyond yoga. It's beyond mindfulness apps. And I'm not I'm not seeking to criticise those, on the contrary, I I've practised meditation all my adult life. It's very important to me. But but this is about both offering interventions that help people deal with stress, but also as the framework is doing, addressing the underlying causes of stress in the workplace. And that means focussing on ensuring that we are creating conditions where staff have real voice and influence. More collective leadership rather than hierarchical top down leadership where we're transforming working conditions as the framework it's focussed on. Where we're creating cultures of justice and fairness and transparency and openness rather than fear and blame where we are addressing working schedules and rotas and flexibility in the workplace, where we're building team working which we know is hugely protective of staff wellbeing, and is also fundamental to delivering high quality care for patients. And it's creating compassionate leadership and cultures, we know that creating cultures of compassion is associated with better staff wellbeing, but also much better performance of organisations and as individuals. And it's about developing compassionate leadership and cultures, therefore across all areas of our health care systems, from top to bottom, as well as within each organisation. And it's addressing constantly the issue of work overload and staffing, as I've said. Reducing unnecessary activities, providing strong management support for staff.

Speaker 1 [00:12:45] I think the NHS is the most important institution in our society, I can think of no more important institution. It's huge, as I've said, one in 20 of the workforce is employed in the NHS. It's a model for our society. As a as a sector, as a set of organisations, it embodies a commitment to compassion and care and health and well-being and the happiness of people in our societies and our communities. And therefore, it's vitally important that organisational cultures in the NHS provide a model of promoting health and well-being and happiness of the people who work in the organisations that make up the NHS, a model that can then be seen and copied by other organisations, by communities, by individuals. And part of that model, I think, is exemplified in the in the health and wellbeing framework, it's about ensuring organisations are being structured and are functioning in a way that promotes health and well-being and happiness of the people who work within those organisations. That encourages good relationships. That ensures the development of effective team working, which we know is so fundamental to human health and well-being, but also to performance. Organisations that are committed to ensuring they have the right numbers of staff to provide the services that we seek to provide in our country. That are focussed on compassion and inclusion, that create a sense of belonging and compassion and inclusion are like two sides of the same hand, they're both about belonging. And it's also about, I think, creating cultures where we encourage people to be compassionate towards each other and self compassionate. So it's it's the organisational focus on leadership and management and workload and team working but it's also encouraging individuals to take care of each other. We know from all of the data collected in the staff survey last year how important colleagues and. Team work that the teams that people worked in. How important those were to people's ability to cope during the worst of the pandemic. So it's encouraging people to be compassionate and take care of each other's well-being and encouraging people to take care of their own well-being. So it's creating cultures where self-compassion is emphasised as a as a really important value, people paying attention to themselves and their needs. Understanding the challenges they face in working life, caring for themselves and taking intelligent action to help themselves so they can be the best they can be.

Speaker 1 [00:16:18] And so when we create, I think, those kinds of cultures within the health service, we offer a model to the wider community and the and the society of which we are a part that says this is what's important to create happy, healthy communities and individuals. Because after all, I think our core purpose as human beings is to be happy and to help each other be happy in this life, and the NHS is core to that in our society. As I said, I think it's it's the most important institution in our society outside of the family for creating all of that, for nurturing all of that in our society. So this framework, I think, is hugely important as a major step towards supporting organisations across the country within the NHS. And it's never been more needed than it is at this moment in our history since 1948 and the establishment of the health service because of the pressure, as I said at the beginning, that staff are under and because of the important link between staff experience and patient outcomes. So I'm hugely supportive of this framework and the work that's gone into it, and I urge everybody who has any influence within our health services to take the framework, continue to develop it and apply it in our organisations. So we begin to transform the cultures of our organisations and indeed our wider society for the long term future. When when we create compassionate cultures, then we enable people to connect more authentically with themselves and with the others that they serve. Patient service users and with colleagues and indeed with everybody that we interact with. So this is core, I think, to creating compassionate cultures. Thank you, Victoria.
Wellbeing Guardian Masterclass January 2022
A Wellbeing Guardian Masterclass was held in January 2022, this aimed to support Wellbeing Guardians and their teams explore the impact of violence against staff in the NHS. The masterclass covered: An introduction to the Violence, Prevention and Reduction (VPR) agenda including data and insights, the public health approach to VPR, an overview of the current offer, best practice examples from across the systems and how Wellbeing Guardians can support the agenda.
Connect with peer Wellbeing Guardians
It's always good to connect with peers to find out what they are doing and for mutual support. Contact your regional NHS England and Improvement Health and Wellbeing leads, and they will be able to connect you to regional Wellbeing Guardian networks and link you to peers for support. Further information about your region's contacts are available further below.
Community development and resources
NHS England and Improvement are working collaboratively with the Wellbeing Guardian community to co-design a suite of supportive resources, personal and community development offers, as well as technical development offers in the wellbeing agenda. A development programme using a mix of workshops and community events will be released early in 2021-22 and this area will be updated to reflect this offer as soon as it is developed.
Personal Development
Please access the resources available on the NHS Executive Suite which contains a variety of personal executive/senior leadership development resources to support you as a senior leader to thrive in role and set a culture that values the importance of health and wellbeing.
Community Development
Please link to your regional NHS England and Improvement Health and Wellbeing lead (see Regional Wellbeing Guardian Networks below). They will be able to connect you to your regional Wellbeing Guardian community network and to peer support.
Useful resources and links
Regional Wellbeing Guardian Networks
NHS England and Improvement are committed to empowering Wellbeing Guardians through regional networks. These networks are currently being established. We strongly encourage Guardians to reach out to your regional lead to join your local network and shape the agenda, the role and co-design the development and support offers to enable you to be effective in role.
NHS England and Improvement national Wellbeing Team are also keen to hear from Guardians and how we can support you with taking on, shaping and being effective in the Guardian role. Guardians can also contact the national NHS England and Improvement Health and Wellbeing Team
Tell us more about how we can help
Please use the space below to provide feedback to us about the role and anything you need so we can support you further.
Other resources
NHS Wellbeing Guardian National Launch Event (28 January 2021)
Further information about Wellbeing Guardians and Healthy Workplace Allies is also available here.