Whether you are an established Wellbeing Guardian, recently taken on the portfolio, or considering becoming the Wellbeing Guardian for your healthcare organisation, thank you and welcome.
This area is designed to support all Wellbeing Guardians to; develop into role both personally and as a community, to deliver and shape the aspirations and impact for the Wellbeing Guardian portfolio, and to empower Guardians to create a culture of wellbeing for our healthcare people to thrive and deliver quality healthcare services.
The wellbeing of our NHS and healthcare people is fundamental for a us as a caring organisation. Boards and senior leadership teams need to give wellbeing the highest priority. Ensuring our staff are happy and healthy feeds through into better patient care.
As a Wellbeing Guardian, you will be a pivotal enabler in helping to create an organisational culture where empowering the health and wellbeing of our NHS people is routine and a priority consideration across all organisational activities and decisions.
To support you, this Wellbeing Guardian community area is split into the following sections: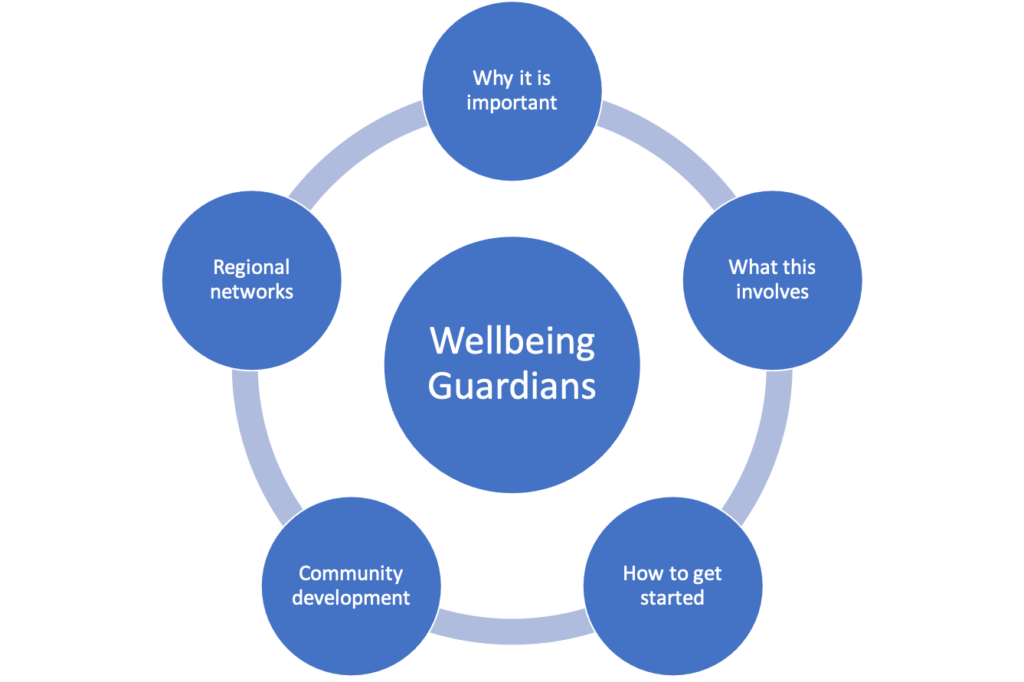 We will be updating this area with new resources on an ongoing basis to support the Wellbeing Guardian community, so please check back regularly.
---
Why the role is important and potential for impact
Rather than trying to describe why this role is important, we have a variety of videos from existing Wellbeing Guardians, sharing their personal stories of why they believe the role is important and the potential for impact.
As Wellbeing Guardian, you have the opportunity to make a real difference in your organisation, placing staff health and wellbeing at the heart what we do. You will be in an ideal position to support, influence and seek assurance from your senior leaders, creating a culture of wellbeing where the organisation cares for its people, who care for others.
The role arose out of the 2019 NHS Staff and Learners' Mental Wellbeing Review, and championed through the subsequent NHS People Plan. The Wellbeing Guardian Implementation plan can be found here.
In the short-term, the NHS is in a critical place right now because of the pandemic. Our staff are exhausted and, in many cases, deeply impacted by their experiences. Wellbeing Guardians therefore have a vital role to play as part of the recovery agenda.
However, even before the pandemic, our staff were reporting high levels of stress and challenges to their wellbeing. Therefore, the role is vital in both recovery and long-term strategic culture change in the workforce wellbeing agenda. By ensuring our workforce is physically and psychologically safe and healthy, we can in turn provide excellent care for patients.
What the role involves
A successful Wellbeing Guardian will be values-driven, people-focused, and willing to challenge the status quo to empower a wellbeing culture within their organisation. Sometimes this can involve asking difficult questions when championing wellbeing and seeking assurance that this is of organisational priority.
To hold the organisation to account in this way, it is suggested that this role sits best with a Non-Executive Director (NED) or equivalent in the context of your healthcare organisation. If your healthcare organisation does not have a NED, individuals in equivalent roles, such as a lay member or clinical director may be considered.
The role should be that of assurance and be empowered to act strategically. Therefore, the organisation should enable the Guardian by aligning functions such as HR / OD / Occupational Health and Wellbeing to operationally support them.
From an organisational perspective, the Wellbeing Guardian needs to:
Challenge the organisation to include employee wellbeing in everything they do and actively create a 'culture of wellbeing', to care for people who care for others.
Act as a 'critical friend' to question the impact of decisions on employee wellbeing – just as financial, performance or care quality impact are questioned. Seek assurance that how the organisation enables the wellbeing of its employees, is given as much weight as what it achieves.
Ensure the Board (or equivalent senior leadership team in the context of your healthcare organisation) holds senior leaders to account for the way employees are managed, empowered, and supported with their wellbeing.
Seek data to show what's happening on the ground, evidencing the wellbeing needs of the diverse workforce (inputs) and that wellbeing strategy / policies / initiatives are working and impactful (outputs).
Champion equality, diversity and inclusion, ensuring that the organisation considers the needs of the diverse groups within its workforce and adapts holistic approaches to wellbeing, appreciating peoples changing needs over time.
Continually and strategically 'sense-check' the wellbeing agenda for the organisation and prompt improvement / developmental action if needed.
Demonstrate that the Board (or equivalent senior leadership team) takes their personal wellbeing responsibilities seriously.
Work closely with the organisations people function (i.e. HR, OD, Occupational Health and Wellbeing etc) as enabling operational functions to realise the wellbeing agenda for the organisation and that they are supportive to the Wellbeing Guardian to be effective in role.
From a personal perspective, the Wellbeing Guardian needs to:
Strategically influence and shape the wellbeing agenda, speaking to the hearts and minds of the organisation's diverse workforce.
Hold the values reflected in the role description, role modelling the values of fairness, compassion and inclusivity.
Actively promote opportunities for the most vulnerable in the workforce to contribute and address wellbeing inequalities and the needs of diverse groups and individuals.
Although Wellbeing Guardians must be competent and confident in their ability to challenge the executive / senior leader team on behalf of the board (or equivalent senior leadership team) Wellbeing Guardians are not accountable for the entire people agenda. They do not need to be an expert in wellbeing, but they do need to be adept at understanding the breadth of wellbeing in the context of their organisation and holding the organisation to account where improvements are identified.
With this in mind, a Wellbeing Guardian does not need to:
Be a wellbeing expert.
Take on executive/management responsibilities for ensuring wellbeing policies are operationally actioned and delivered.
Get involved in 'the doing', operational management, or individual staff cases.
Personally collect, analyse or present data on wellbeing.
For more information, please also see the Wellbeing Guardian Summary Implementation Guide for a summary of the nine principles that should be championed by the role, as outlined in the NHS Staff and Learners' Mental Wellbeing Review and an example developmental role profile which can be adapted by Guardians / Organisations based on local need.
How to get started
Get to know your organisational data and what this is telling you
The first place to start is to get to understand your diverse workforce and what the wellbeing agenda means to them in the unique context of your healthcare organisation. Your organisational people, HROD and Occupational Health and Wellbeing teams can help you.
There are lots of places where you can find data about your diverse workforce. A good starting point would be to familiarise yourself with the data in order to understand the big picture and dive into the detail where something doesn't look right, needs exploration and/or improvement. It's not your role to do all of this activity, but data will enable you to question and challenge how things are done.
The Model Health System is a data-driven improvement tool that supports health and care systems to improve patient outcomes and population health.
It provides benchmarked insights across the quality of care, productivity and organisational culture to identify opportunities for improvement. The Model Health System incorporates the Model Hospital, which provides hospital provider-level benchmarking.
The wellbeing element of the dashboard provides Guardians and Boards with insights that could help you give a baseline and an indication of priority areas. Keen to develop a balanced approach that looks at both Lead indicators (looks forward and interventions are put in place upstream to make a difference) and Lag indicators (look at what has happened).
Model Health Hospital – WBG Guidance PowerPoint
Take a look at the data and commentary from your organisation in the national staff survey results or NHS people pulse surveys – look at other local surveys too or consider targeted staff engagement events that work locally for your organisation. Use benchmarking information to understand what is happening in other areas. Examine how the data changes over time and the context of what was happening at these different times.
Consider the diverse drivers of wellbeing – health, security, environment, relationships and purpose. Encourage the board / senior leadership team to look at potential workforce health and wellbeing inequalities and ensure they are engaging with and supporting all relevant groups.
Also, look at the impact of the organisation's existing wellbeing interventions – have they been evaluated, what has the impact been, should they be scaled and spread?
All this data can help inform your assurance role and leadership in the Health and Wellbeing Strategy. By reviewing this data, you can help establish what is working well, where you have concerns, where there are possible gaps, and where the organisation needs to make changes to support its people better.
Utilise the NHS health and wellbeing framework
Please note: The Framework is currently being refreshed to be more representative of the wider elements of wellbeing. We will update this area with details when the new version is published and let all Guardians know through communications.
The NHS health and wellbeing framework is an interactive strategic toolkit designed for board/senior leadership teams and those leading the wellbeing agenda. It makes the case for staff health and wellbeing, incorporates an organisational diagnostic tool, sets out clear actionable steps and includes guidance on planning and delivering a workforce Health and Wellbeing Strategy.
It has been developed through working with NHS organisations, partners across the NHS, voluntary sector and government, drawing their best practice research and insights. The framework and accompanying resources are designed to be used in a flexible way to meet the needs of your organisation. It can be used to start, revise or relaunch a programme, and depending on your starting point, your organisation may only need to use some of the elements.
The health and wellbeing framework diagnostic tool is an ideal starting point. It can be used by your management team to assess where your organisation sits and help direct future activity. We recommend using the diagnostic tool with the Board / Senior Leadership Team, and where possible to engage widely with your diverse workforce, to benchmark wellbeing and consider areas of improvement.
Connect with peer Wellbeing Guardians
It's always good to connect with peers to find out what they are doing and for mutual support. Contact your regional NHS England and Improvement Health and Wellbeing leads, and they will be able to connect you to regional Wellbeing Guardian networks and link you to peers for support. Further information about your region's contacts are available further below.
Community development and resources
NHS England and Improvement are working collaboratively with the Wellbeing Guardian community to co-design a suite of supportive resources, personal and community development offers, as well as technical development offers in the wellbeing agenda. A development programme using a mix of workshops and community events will be released early in 2021-22 and this area will be updated to reflect this offer as soon as it is developed.
Personal Development
Please access the resources available on the NHS Executive Suite which contains a variety of personal executive/senior leadership development resources to support you as a senior leader to thrive in role and set a culture that values the importance of health and wellbeing.
Community Development
Please link to your regional NHS England and Improvement Health and Wellbeing lead (see Regional Wellbeing Guardian Networks below). They will be able to connect you to your regional Wellbeing Guardian community network and to peer support.
Useful resources and links
Regional Wellbeing Guardian Networks
NHS England and Improvement are committed to empowering Wellbeing Guardians through regional networks. These networks are currently being established. We strongly encourage Guardians to reach out to your regional lead to join your local network and shape the agenda, the role and co-design the development and support offers to enable you to be effective in role.
NHS England and Improvement national Wellbeing Team are also keen to hear from Guardians and how we can support you with taking on, shaping and being effective in the Guardian role. Guardians can also contact the national NHS England and Improvement Health and Wellbeing Team
Tell us more about how we can help
Please use the space below to provide feedback to us about the role and anything you need so we can support you further.
Other resources
NHS Wellbeing Guardian National Launch Event (28 January 2021)
Further information about Wellbeing Guardians and Healthy Workplace Allies is also available here.