These resources in this guide are based upon experience gained through dealing with major incidents that benefit from an approach to dealing with traumas through critical periods. Not everybody is going to recover from these quite quickly and be able to return to the kind of place that's traumatised them.
After a period of crisis, a recovery and reflection phase will follow – a rest phase and the phase of "you know what have I just been through".
As a system we review our sickness policies and our time-off policies to give people chance to recover from the work that they've been doing. This is necessary to be able to get back to the throughput that teams need to concentrate on to catch up with the work that we've suspended.
Managing public expectations about service levels and what's practical and what everyone is capable of will be really important. Eventually the kind of activity-level demand begins to settle again – this is not a quick process, so staff who maybe haven't been so fortunate that they're able to recover themselves that there may be 30 percent of staff who will need some specific mental health support.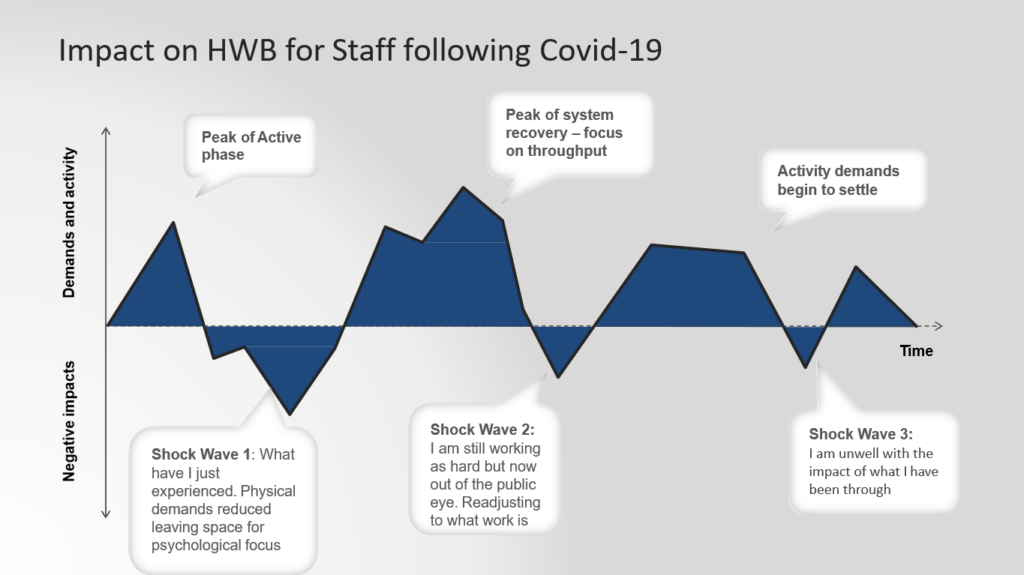 "so we put this into a frame of what activities that we think will need to happen and again early thinking – so I'd really value your comments and feedback. We know that we need to give people opportunities to tell us what's happening and we want to be able to do that as local as possible, so enabling our local systems to really support and listen to staff and what they need is going to be really really helpful. "

Dr Sonya Wallbank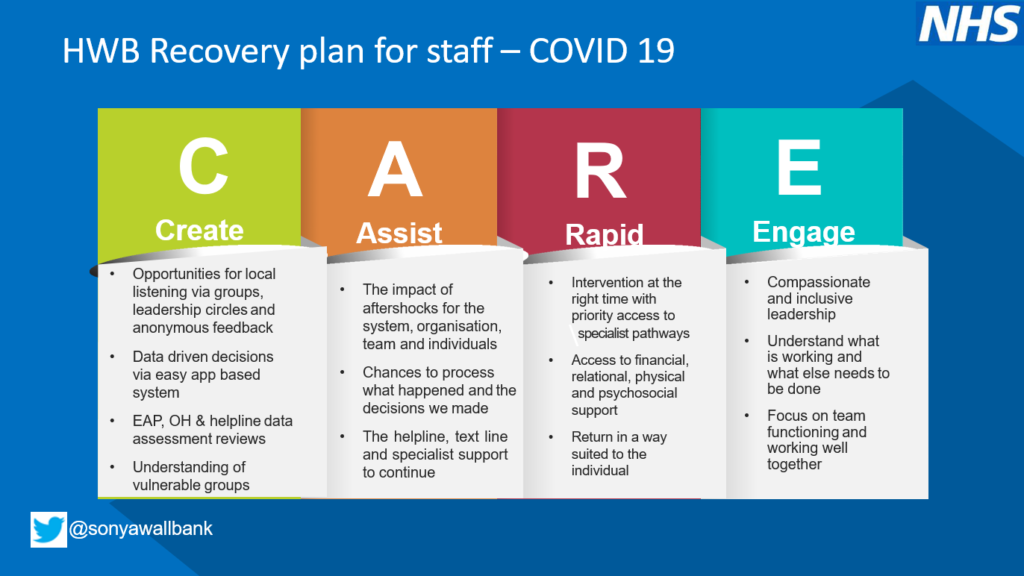 People who need help and need to have access in a way that supports them so that rapid intervention is provided at the right time, so colleagues are able to come back to work in a way that suits them – the experience that people have of leadership style during the recovery phase will leave a legacy. It is essential to supporting individuals and teams to be the best that they can be by focusing on our team functioning and how well we work together to come out of it successfully as a system.